Guild
A guild is an organized group of Sofi players (Adventurers) that regularly play together.
Guild Roles
There are 4 roles in a guild -
[F]ounder
[G]uildmaster
[V]eteran
[R]ookie
Uses and permissions
[F]ounders have all of the permissions
[G]randmasters have all the permissions except the ability to delete the guild.
[V]eteran and [R]ookie do not have any special permissions at the moment.
⚠️
Choose whom to promote very carefully.
Level up your guild
Guilds are Level 1 by default, they require Guild XP to level up. The Guild can recieve guild XP through:
Dailies give 100 Guild XP.
Votes give 200 Guild XP.
Bumps give 10 Guild XP.
End of Raid Results give a varying amount.
To upgrade your guild, you need to use the command sgi and then select Guild Upgrade option from the menu given below.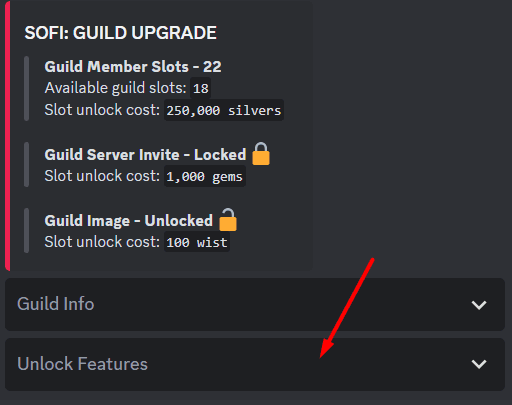 Guild Members
Initially all guilds will have 15 slots, which can later be upgraded to 40 with silvers. There is no guild level requirement to upgrade member slots.
0-15 - Free
16-20 - 100,000
21-25 - 250,000
26-30 - 500,000
31-40 - 1,000,000
Guilds Donations and Vaults
Donations are important and necessary for upgrading your guild, unlocking features and abilities which benefits all members of the guild.

Donation is voluntary for guild members. It doesnt give any rewards. However, Your Guild founder or Guildmasters can assign rewards for donations on their own.

Vaults or your guild treasury, is where all your guilds donation gets stored.
To upgrade or unlock features related to your guild, the guild founder or the guild master can use it to upgrade the guild features.
Only [F]ounders & [G]randmasters has withdraw permissions.

Wists and silvers cant be withdrawn. Withdraw logs are visible to the entire guild.
Therefore, the players are requested to join only trusted guilds or promote only trusted players to the G position, as there is a slight chance that the players might get scammed by your guild founder/master. Rest assured, there are vault logs for everytime someone donates/withdraws upto an extent.
You can no longer deposit crystals to the vault, however you can withdraw it.
Withdraw logs are visible to the entire guild.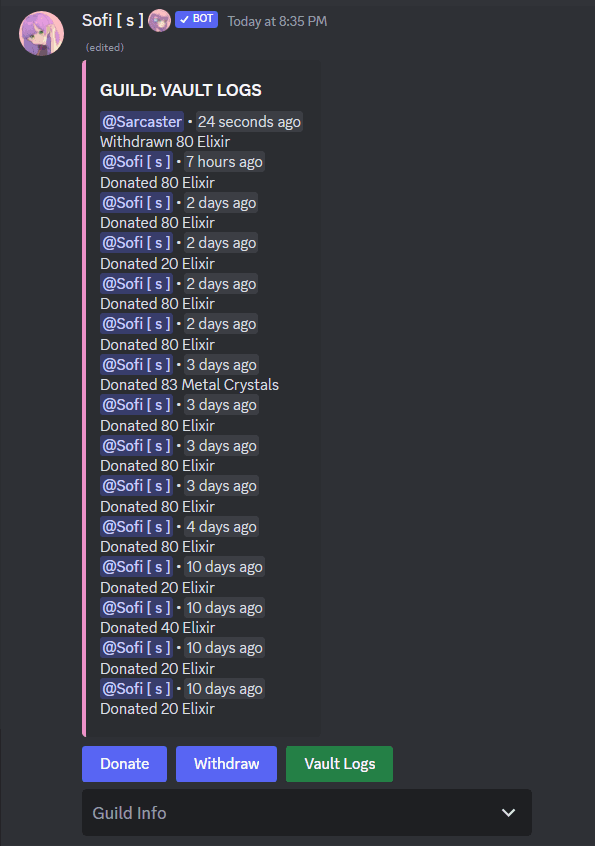 ⚠️
Wists and silvers cant be withdrawn.
Guild Image
Guild Images are of dimensions 500px x 150px
A guild image may look like:

Guild Banner
Guild Banners are completely free, and the dimensions of the banner is 500px x 500px.
Guild banners are simply custom banners for your guild with a simple layout that looks like: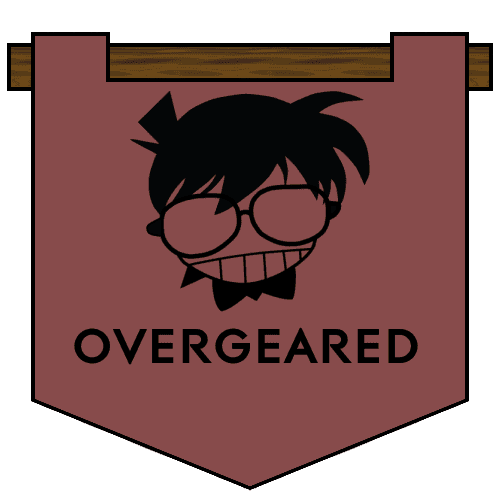 Server Invite
When you proceed to check your guild information page, if you had bought the server invite feature, your guild name will have a hyperlink, that will redirect anyone that touches the link, to your server.
You can post your advertisements or recruitments on #🤝・guild-ads

(opens in a new tab)

Once you had unlocked your server invite feature, your guild information page would look like: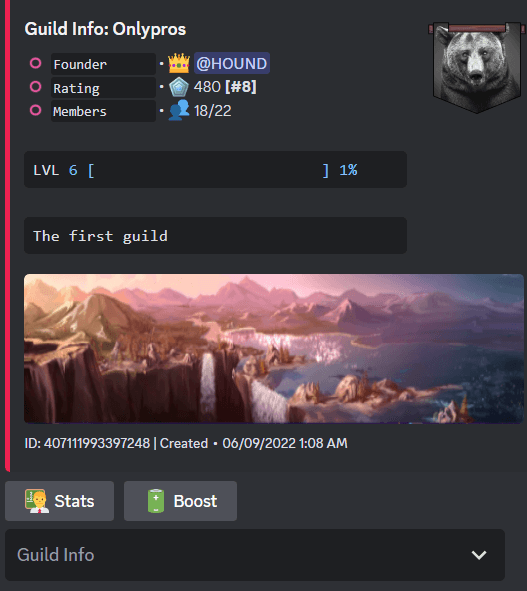 Boost Cards
You can boost element to get extra benefits in raids.
Elemental boost only works in raids and can boost only one stat like Attack/Defense/Speed/HP at a time. Your guild founder/master can choose which stat they want to boost. They can change the stat if needed.
To boost any element you need the same type of crystal, i.e. To boost Wind element you need Wind Crystal.
Cost for elemental boost:
Level 1 - 5000 Crystals
Level 2 - 7500 Crystals
Level 3 - 10000 Crystals
Level 4 - 15000 Crystals
Level 5 - 20000 Crystals
Level 6 - 30000 Crystals
Level 7 - 40000 Crystals
Level 8 - 50000 Crystals
Level 9 - 75000 Crystals
Level 10 - 100000 Crystals
The maximum boost for Attack/Defense/Speed is 10% and for HP it is 20%. Each level gives 1% boost to Attack/Defense/Speed and for HP its 2%.
Guild Season
Guilds will be ranked based on the combined points from the raids. Guild season lasts one month.
Rank distribution in a season:
#1 : Ruby
#2-4: Diamond
#5-10 : Platinum
#11-20 : Gold
#21-50 : Silver
#51+ : Bronze
Elemental Chart
This chart tells you about the various elemental weaknesses and strengths.